Summerwood Farm NC, LLC
   von BachHaus Kennel German Shepherds – 311 Summerwood Drive Raeford, NC 28376
Michelle Waddell – e-mail: summerwoodfarm.nc.gsd@gmail.com – Office: 336-964-0643
STUD SERVICE AGREEMENT & FEE
We offer the following male for Stud Service: ______________________at a fee of $750. We will supply a copy of the stud dog's SV & AKC Registration.
It is the female owner's responsibility to make sure that she is flagging when bringing her here. We recommend a progesterone test for optimal breeding time but not required.
There is initial fee of $100 when you bring the bitch to one of our Breeding Facilities. After one tie and picture provided fifty (50%) of the fee is due and the remaining balance is due when the ultrasound confirms that she is pregnant. We shall attempt several ties within the next several days. After one day there will be an additional boarding fee of $25 per day. We request that you supply the food that she has been accustomed to eating to keep her stress to a minimum.
Prior to breeding we require your female: 7 days prior to breeding be tested free of brucellosis, a copy of her SV and/or AKC registration, to be current on her Vaccinations, Deworming medication, Rabi certification and Bordetella inoculations. We will not attempt to breed an aggressive female.
We do everything possible to ensure that your female is ONLY being bred to the stud dog you have selected and that she will be safe & secure during that time at our Facility.
Date of Contract: _______________________________
Owner(s) Female: ___________________________________________
Address: __________________________________________________
Phone & E-mail address: ______________________________________
Both parties have read and understood the agreement by signing below, agree to the terms of this contract.
Owners signature Stud: _______________________________________
Female Owners signature: _____________________________________
Today's date:  ______________________________________________
---
We are fortunate to have Four exceptional German Imported Males
Freitag vom Grossen Ex 
V Rated in Show, BH, AD, 3X'S IPO3 & KKL
Freitag Placed First in the German Regional Trial. The German national trial took the 200 dogs with 
107 out of 200 in The German National Trials.  Freitag lost points because he was a long coat German Shepherd.
Freitag is a Beautiful Long Coat – Show-line – Black & Red coloring
Hips & Elbows are A-1 fast Normal
Please Contact Michelle in Randleman at: 336 964 0643
 V Waran von der Feuersaule, BH, IPO3
Czech Republic 
This sable male is the largest and most powerful dog we have ever owned for stud service. Waran is half Czech Republic and West German ancestry.
Herbert Lowry & Waran von der Feuersaule. IPO3. 2019 USCA Southeastern Region IPO Championship in Fayetteville, NC.
Waran took high in trial in all phases of the IPO1 & IPO2.
I know of no another German Shepherd at this age with this high level of training that Waran exhibits.
Waran is the largest Male ever had available for stud service at von BachHaus Kennel to breed to your AKC approved Female. Call or Text Michelle: 336-964-0643

Our most current Titled East German DDR (Deutsche Demokratische Republik) 
V Amarillo von Scheuerheck, DDR, IPO1
Born, Raised & Trained in East Germany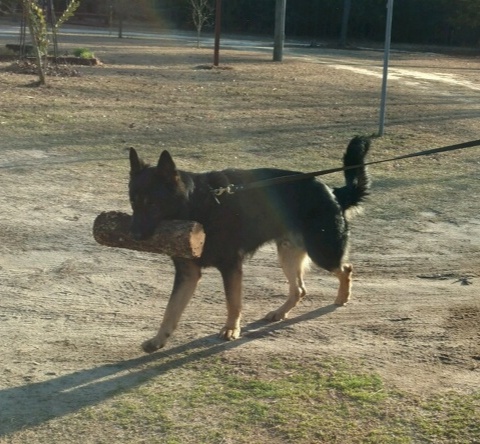 Please contact Sue in Alcolu, SC at: 202 341 4501
 Sire Born: May 22, 2014
100 Pounds 
VA Urk vom Eichenplatz, IPO3

Born, Raised & Trained in Germany – Show-line Black & Red
Sire Born: November 16, 2014
2017 SV BSZS  Urk vom Eichenplatz
100 Pounds
You can see by this video that Urk does not want to come off the sleeve.
Please contact Sue in Alcolu, SC at: 202 341 4501